The act of giving back holds immense significance, and when individuals step up to assist those in need, their actions serve as a profound source of inspiration. A shining example of such benevolence is 12-year-old Alex Lattergrass from Fargo, North Dakota, whose dedication to service made headlines in July 2023.
Alex embarked on a heartfelt mission to give back to first responders, law enforcement personnel, EMTs, firefighters, veterans, and the families of army officers. He took on the 50-yard challenge, a noble initiative promoted by the Raising Men & Women Lawn Care Service website, encouraging youngsters between ages 8 and 17 to aid those with specific requirements. The challenge entails mowing lawns for the elderly, disabled, single parents, and anyone in need, free of charge. To participate, volunteers must take photos of themselves with signs pledging, "I accept the 50 Yard Challenge."
Participants commit to mowing 50 lawns, with every ten lawns marking a significant milestone. As they progress, volunteers are rewarded with special Raising Men/Women souvenir shirts, with different colors denoting their progress and dedication to the cause.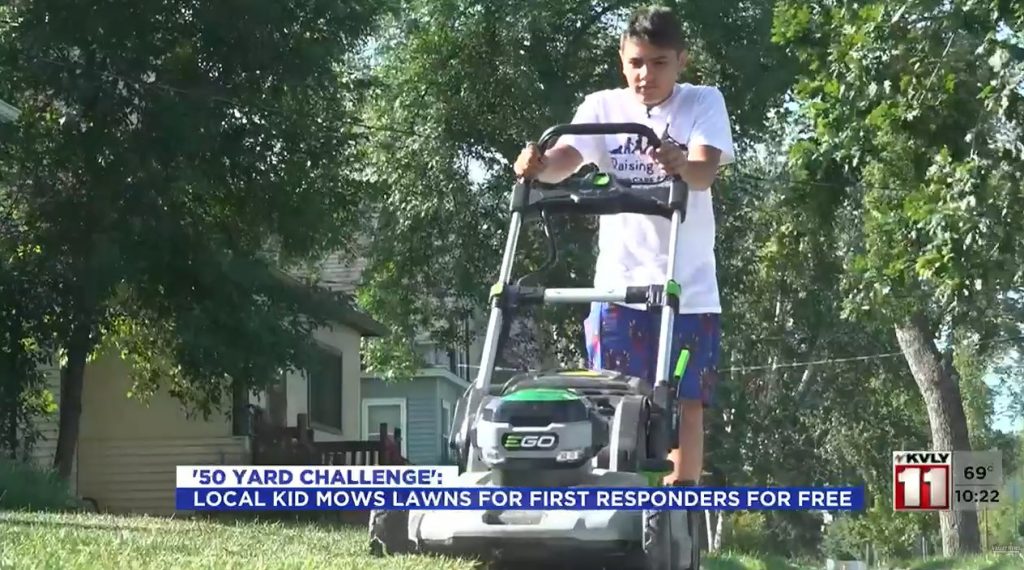 Running his own mowing company, Alex Mowin Co., Alex chose to direct his efforts towards assisting first responders. He expressed his excitement for taking on this responsibility, mentioning how he still enjoys mowing lawns, picking weeds, and having a great time while doing so.
Speaking to Valley News Live, Alex explained that his decision to help law enforcement and emergency personnel stemmed from recent events involving police officers. His proud mother, Daniella Ramirez-Thiedeman, praised her son's initiative, emphasizing how impactful it was to witness him utilize his skills to give back to the community.
Alex's motivation to care for those dedicated to caring for others in society led him to volunteer his time and expertise in maintaining their lawns. He recognized that these individuals might be preoccupied with other pressing matters and thus may not have time to tend to their lawns. By offering his assistance, Alex aimed to show gratitude for their remarkable work.
The support for Alex's altruistic endeavor from the local community has been overwhelming. His mother highlighted the significance of even the smallest acts of kindness and how they demonstrate the care and concern of others.
This endeavor holds a special place in Alex and his mother's hearts, as they have family members working in law enforcement and emergency services. Alex's father, who serves as an officer in the Fargo Police Department, is a source of pride and admiration for the family.
As young as he is, Alex Lattergrass exemplifies the true spirit of giving back, reminding us all of the power of selflessness and the positive impact it can have on the lives of others. Through his efforts, he not only tended to lawns but also nurtured a sense of community and compassion, leaving an indelible mark on those he touched.