At a Chick-fil-A in Belmont's Park Street, an emotional and heartfelt moment unfolded as employees paused their regular operations to gather in prayer for a co-worker facing a significant surgery. Patricia Russell, affectionately known as "Ms. Trish" to regular customers, was scheduled for an operation to combat the breast cancer she had been diagnosed with.
In a touching display of solidarity, store director Tony Gilbert called for a temporary halt to business activities. He invited both employees and patrons, extending from behind the counter to the dining room, to join together in prayer for Russell's well-being. A bystander captured the scene on a cellphone, and the video, once shared on Facebook, quickly gained traction, reaching hundreds of thousands of viewers.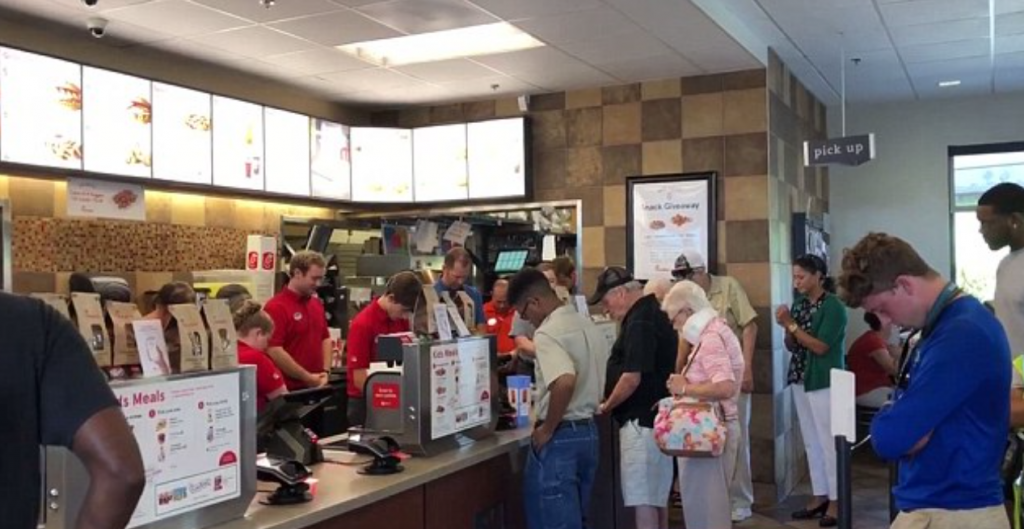 Gilbert, addressing the gathered crowd in the recorded clip, expressed the gravity of the day, saying, "So if you all know her from our dining room, today is a rough day for us. We're hoping that things will go well." He then led a prayer asking for protection during Russell's surgery, seeking steady hands for the surgeon and clarity for everyone in the operating room.
He spoke passionately, recognizing Russell as a beloved member of the community, stating, "She is our light. She is a pillar in the community for us. Everybody here loves her so much. Please, please just protect her and get her back here to brighten our days. In Jesus' name we pray, amen."
The heartfelt moment had a positive outcome, as Russell's surgery reportedly went well, and she is now in the process of recovery. The shared video not only showcased the supportive community at the Chick-fil-A but also resonated with viewers across social media, emphasizing the power of compassion and unity in the face of challenges.
Is anyone among you sick? Let them call the elders of the church to pray over them and anoint them with oil in the name of the Lord. And the prayer offered in faith will make the sick person well; the Lord will raise them up. If they have sinned, they will be forgiven. Therefore confess your sins to each other and pray for each other so that you may be healed. The prayer of a righteous person is powerful and effective. James 5:14-16