At 2:22 a.m., a family praying for a baby received a miracle. February 22, 2022 (2/22/22) is "twos-day." According to Alamance Regional Medical Center, baby Judah Grace Spear's mother survived Hodgkin's lymphoma, a type of cancer. Her treatments made pregnancy unlikely, but not impossible.
Furthermore, their baby girl, Judah Grace Spear, was born at 2:22 a.m. in hospital room number 2. She weighed 7 pounds and 10 ounces when she arrived, for a total of 122 ounces! But, while the numerical parallels are fascinating, they aren't what make Judah a miracle. And it's the story of this blessed child that makes February 22nd so special for Aberli and Hank Spear. Judah's parents would regard her as the most incredible miracle no matter what day, time, room, or weight she arrived at.
Aberli Spear was diagnosed with Hodgkin's lymphoma and battled it for several years. Despite her victory, doctors warned her and her husband, Hank, that they would be unlikely to conceive. Aberli and Hank Spear investigated alternative methods of conception, such as in-vitro fertilization. However, the exorbitant price tag put it out of their reach. As a result, the couple decided to entrust their fertility concerns to the Lord. "We prayed that we would have kids," Aberli said.
Aberli and Hank finally found out they were pregnant with the baby they never thought they'd have. Aberli's due date was 2/22/22, but the couple expected their baby girl to arrive on a different day. Babies almost never arrive on their expected due date. When doctors discovered that baby Judah had been breached, the chances became even slimmer. Aberli was induced at 11:50 p.m. on February 20th. But then the first-time mother went into labor for a whopping 26 hours!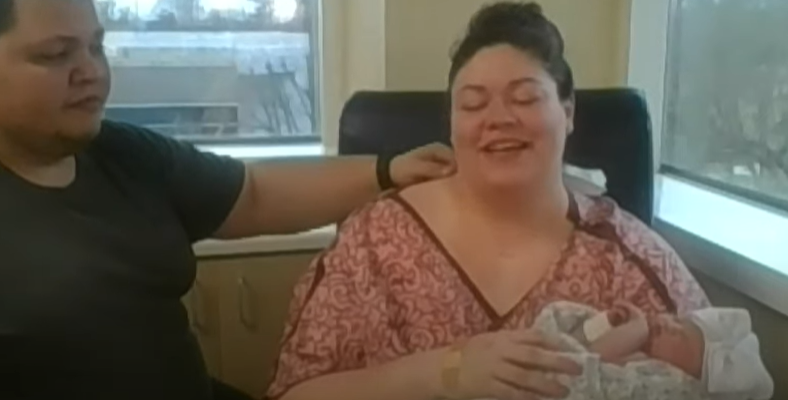 When the couple arrived at the hospital, they were assigned to delivery room No. 3. The monitors in the room, however, were not working properly. As a result, the staff relocated the couple to room No. 2. Hank had a wild thought that he shared with his mother-in-law when the clock struck midnight on 2/22/22. "You know, it would be kind of crazy if she waited another two hours," he said.
That's exactly what happened! Baby Judah Grace Spear arrived two hours later, at 2:22 a.m. on 2/22/22, according to Hank's description of "God's scheduling." "A miracle baby," proud mama Aberli said. "That's why we decided to choose the name Judah because it means praise – just praising God for giving us our heart's desires."
So, while all the twos make for an interesting story, it's the fulfillment of God's promise that elevates it to the level of a miracle. "It's like looking at the impossible — what I was told I couldn't have — and realizing it's a reality," Aberli said. "It's still like a dream."
We can trust in God's promises. Although it is natural to have doubt, we must keep ourselves anchored on His promises and pray for the Holy Spirit to help us grow our faith in Him.