Sometimes God blesses us with an angel that impacts our lives differently.
Ben Bird, a garbage man in the Mainlands, England, made Dorothy Ballard's 100th birthday special when he surprised her with a cake.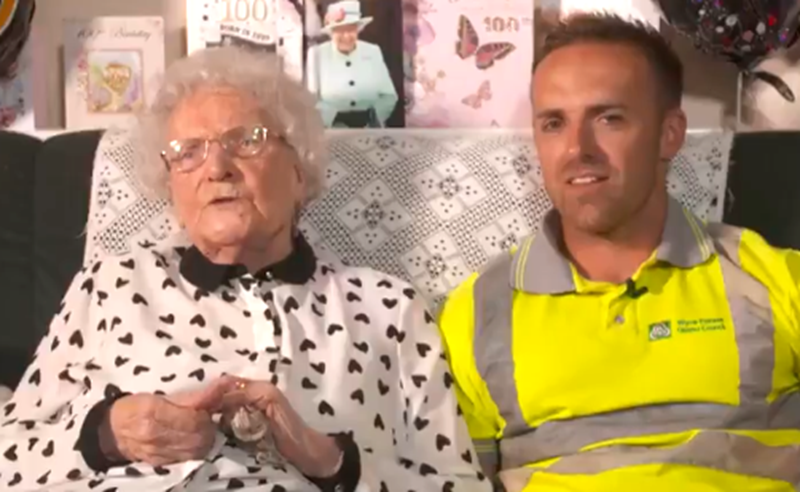 Every Thursday is Ben's schedule to take out Dorothy's trash. For many years that his route passes by her house, he always spends 10 minutes chatting with Dorothy that they have already formed a strong bond. He promised to bring her a cake once she reached 100 years old.
Ben did not break his promise.
It was Dorothy's 100th birthday when Ben showed up on her doorstep with a cake in his hand. As soon as she opened the door, Ben sang the "Happy birthday" song with his colleagues.
The heart-warming surprised Dorothy. She was shocked that her special friend remembered her birthday.
According to Ben, he loves listening to Dorothy's stories and her amazement at how technology works.
As for Dorothy, she appreciates how Ben would take 10 minutes of his busy time to talk to her.
"There aren't many young men that take interest in an old woman. And he's been such a lovely lad – honest to God he has," she said.
Their video became viral as it uplifts the hearts of the viewers most especially, Dorothy's family.
"My great gran always speaks so highly of her binman Ben," Mercy's granddaughter, Katy Smith, said. "So I messaged him to thank him that he made her day. We all feel very blessed to have her; she has a great sense of humour and is loved by so many. We treasure every moment."
What can you say of Ben and Dorothy's friendship? Share this story with your friends and family to spread happiness!