News about crimes, pandemics, and world threats covered the tabloids regularly, which may make us think that kindness has no place in the modern world anymore. This is not true at all!
Despite the negativity, there are still kindhearted souls who don't see kindness and compassion as a weakness. Moreover, these acts of kindness may happen in the most unlikely places in the world.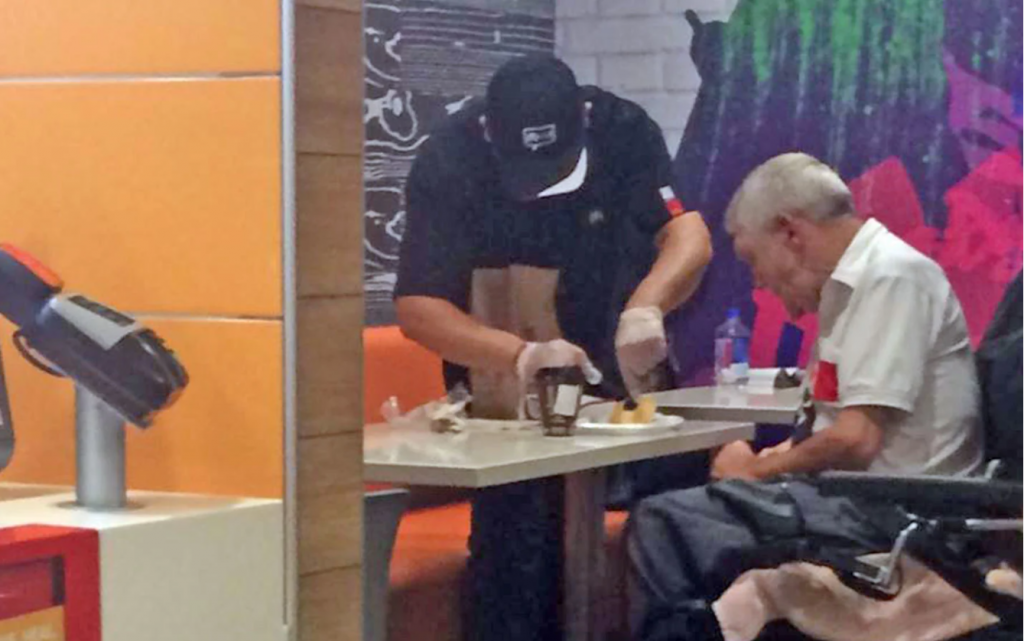 Kenny, a McDonalds' joint cashier in Chicago, got out of his comfort zone and took a second to help an elderly male customer seated in an automatic wheelchair. The elderly gentleman had trouble eating his dinner, but Kenny helped him out, cutting his food in bits so that the customer could eat them well.
Kenny's kindness did not go unnoticed. Destiny Carreno, another customer, happened to dine at the fast-food restaurant while Kenny was helping the elderly Destiny did not let the moment pass and took a snap of Kenny assisting a male customer.
Destiny was in awe of the cashier's kindness and posted it on Facebook to remind the world that compassion still existed, and it had not gone out of style.
"This employee, who put everything on hold for this man, went above and beyond his responsibilities to help this handicapped customer out. That was the kindest and most humble thing I had ever seen," Destiny wrote.
Kenny's action is a powerful reminder that we can practice compassion in our little ways. And despite our busy schedules, we can always share our blessings in small acts and pay it forward.
The post became viral and was shared at least 315,000 times on Facebook. It also got the attention of Rod Lubeznik, the owner of McDonald's in Chicago. The businessman was so proud of his employee for the kindness he showed to a random customer.
Speaking on behalf of the restaurant chain, Lubeznik announced that the whole McDonald's family was 'overwhelmed by the positive response [Kenny] received for his compassion and kindness.'
"It's a true testament to who Kenny is and a reminder to us all that one seemingly small act of kindness can touch the hearts of so many," Lubeznik said in a statement.
Meanwhile, fast food restaurant staff members are one of the most discriminated against and low-paying jobs globally. Despite the pressure of working in a fast-food joint, staff members were receiving minimum wage. As Kenny's photo went viral, fast-food workers also took the opportunity to use the image in the ongoing campaign to increase the minimum wage of $15 for workers in the industry.
Kenny's photo became a meme that carried lots of positivity and tons of hope that our society would become more compassionate despite the negativity.