Some people have seemingly simple dreams but when you take a deeper look, you would see that the dream isn't exactly simple to start with.
For Martha Mae Ophelia Moon Tucker, her dream was to have a wedding dress fitting. This was 70 years after she was married. Not that she would marry again, but the story has a lot of interesting details.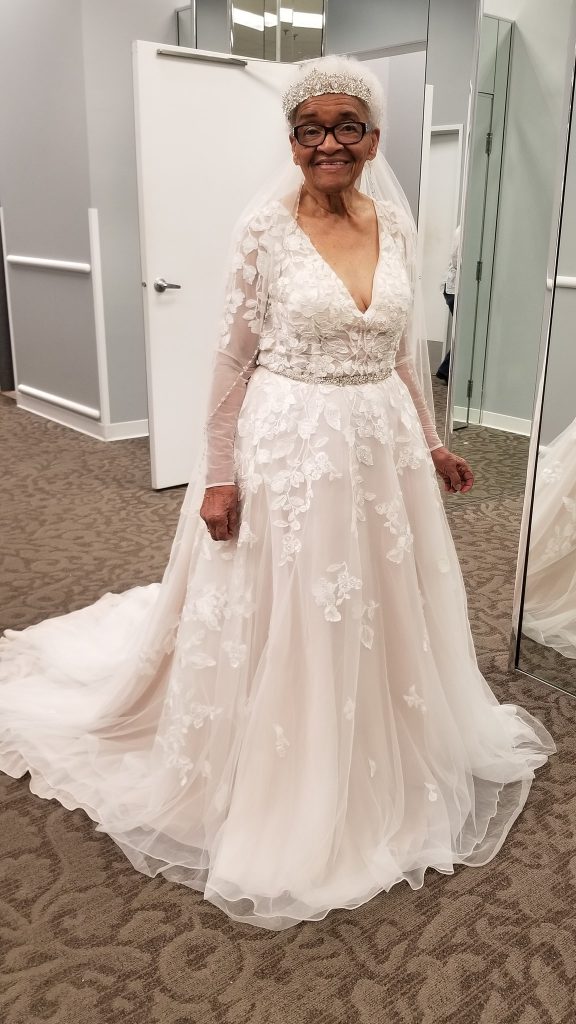 Her granddaughter, Angela Strozier took her to the tailor to have a surprise dress fitting. Strozier planned this event when she heard that Martha Mae didn't have the chance to go to a dress fitting when she was married in 1952.
One time, while watching a movie, Strozier heard her grandmother say, "I've always wanted to try on a wedding dress. I didn't have one when I married."
Not that they didn't have any money to get a wedding dress, but the racial segregation laws that were implemented in the 1950s prevented Tucker from going inside the tailor to have her wedding dress fitting. Mama Tucker was married to her later husband, Lehman Tucker Sr.
"During that time, Jim Crow law was live and in color and, unfortunately, segregation was the way of life. So with her being a Black American, she was not allowed inside of white establishments," Strozier said.
What she wore instead of a wedding gown was a navy-blue dress that came to be known as a Carmen Jones dress with a mermaid design. According to a fashion and style magazine, the style of "Carmen Jones," the eponymous character portrayed by Dorothy Dandridge in Otto Preminger's 1954 film, remains influential to this day. The wedding dress Tucker wore was purchased by the white woman she was working for back then.
When Strozier heard the story, she decided that she would do something for her grandmother. In addition to fitting a wedding dress, she also thought she would give her grandmother a day of pampering which is why she also booked a makeover for her.
On the day that Strozier took her grandma to the tailor, Tucker was immediately drawn to a white lace dress that has a low V-neck. She also tried one that she would have loved to wear on her actual wedding day: a wedding dress with a high collar and long lace sleeves.
Tucker is no ordinary grandmother. She was actively participating in the fight for civil rights and was a registered poll worker in 1963. Her granddaughter said, "She has always been the one to just make those types of sacrifices to make people know their rights."
God allows things to happen. This includes things we do not necessarily understand at the moment. But as His children, we must continue to trust and rely on His plans for God to do all things for the good of those who trust in Him.
Like Tucker, during the time when there was hatred in the country, she persisted and fought for those who had their rights trampled upon. Through fervent prayers of many people and the actions done, freedom was given to everyone.