Jenn Marie was upset. When the 36-year-old single mother of three went grocery shopping at When the mother went to Star Market near the Prudential Center to get all of her family's necessities, she assumed that the coronavirus pandemic stimulus check would have already been deposited into her account. It hadn't, however.
"My job is my only source of income," Velazquez said. "One of my biggest concerns was that my kids don't have enough to eat when I'm not there."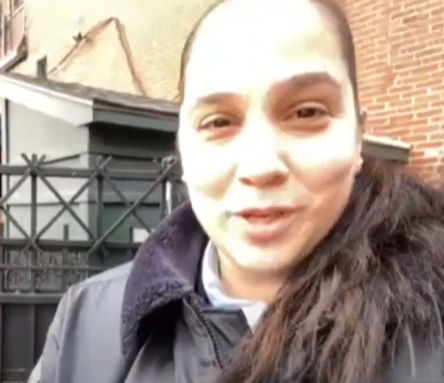 So Marie, a security guard who is still working on site at Logan Airport because she is classified as an essential worker despite the coronavirus pandemic, left the store and sobbed outside.
With all the anxiety the past few weeks, stressing to make sure there's enough stuff in the house while the kids are home from school, I just felt defeated," Marie said. But God was not about to let her feel even more anxious.
"All I could do at this point was sit outside and cry. This gentleman comes along and asks if I was ok, I see a Boston police uniform and I'm thinking I'm in trouble, I'm crying and coughing."
Boston police Officer Ben Peguero, a rookie cop on a paid detail in the area, spotted her and inquired about her problems. Peguero said in a phone interview on Wednesday that once he learned of her predicament, they returned to the store and he paid for all of her groceries, which were still at the register. "I felt bad for her and I told her, 'Come in with me, we will go in and grab some things,'" said Peguero. "When I approached the cashier, I could see cereal, and items kids like to eat."
"As I was talking to him outside before hopping into a cab, he said please don't worry about it, I'm happy I was in a position to be able to help, I assume you have kids and I said yes three of them, and at this point I can tell by his facial expression he was even more happy to have been of assistance!" Velasquez wrote on social media. "So thank you thank you thank you for being such a blessing to this single mom."
"I don't even know how to thank you at this point. But it's truly a blessing and it was such a huge relief for this single mom. There's no way you could maybe even understand how much you helped me, but thank you. Thank you so much!" Velasquez said.
Life has been very difficult for some in the last couple of years because of the pandemic. People have been losing hope and things seem to have taken a turn for the worse. But God always pulls through. He will never leave those who trust in Him. We always make a way.
This is why if you are feeling left alone, anxious, and without hope, turn to Christ and cast all your cares to him because he cares for you. Just like the police officer, he doesn't ask a lot for return, only that you believe and trust in him.