In a poignant display of paternal love, Martin Watts made a heartfelt visit to a tattoo parlor, requesting a 3.5-inch scar to be inked on his chest.
The inspiration behind this unconventional tattoo was to match the scar his 6-year-old son, Joey, received during life-saving heart surgery the previous month.
The family is grappling with supravalvular aortic stenosis (SVAS), a congenital heart condition that affects both Joey and his older brother, Harley, who is scheduled for a similar surgery later this year.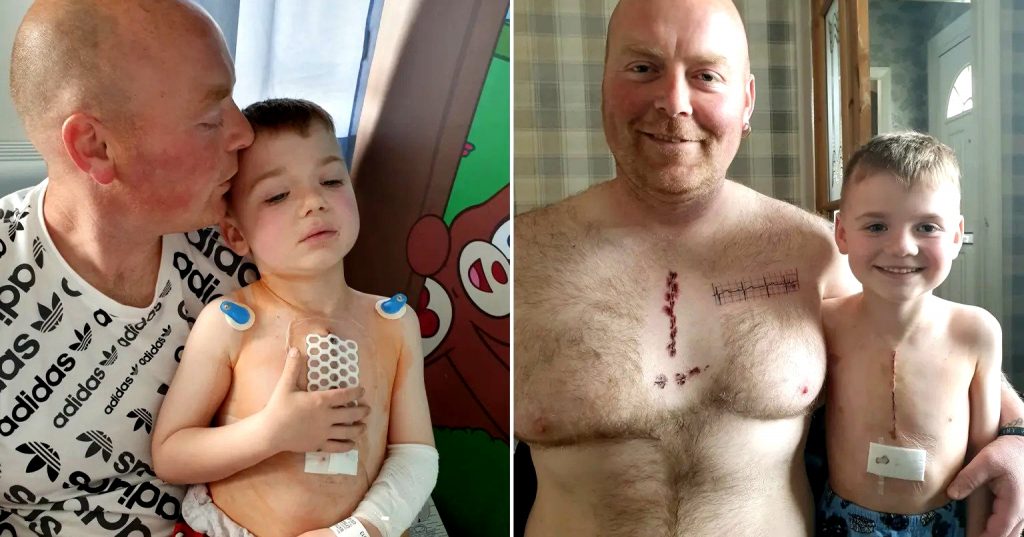 Joey's mother, Leanne Watts, emphasized the challenges faced by a young child undergoing such surgery. When Joey saw his scar, he innocently asked, "Is this where they have cut me to fix my heart?" The family aims to instill pride in Joey, assuring him that his scar is a symbol of courage rather than something to be ashamed of.
SVAS, a rare heart condition occurring in 1 in 20,000 newborns globally, involves the narrowing of a major blood vessel from the heart. If untreated, it can lead to severe symptoms and, in some cases, heart failure.
The Watts family discovered Harley's diagnosis during pregnancy but only learned about Joey's condition 14 weeks after his birth. Determined to take action, Joey underwent an extensive eight-hour procedure at Leeds Children's Hospital, with a positive recovery outlook but future procedures ahead.
Martin Watts' decision to get a matching scar tattoo holds significant emotional weight for the family. Leanne Watts expressed gratitude for the medical team at Leeds Children's Hospital, noting the reassurance gained from Joey's successful procedure.
She sees her husband's tattoo as a source of confidence for both boys, a tangible reminder that they need not fear their upcoming surgeries. In the face of uncertainty, the family finds solace in the symbolic message that courage and pride can be worn like a tattoo, making superheroes out of those who don surgical scrubs and gowns.