Auburn University experienced a remarkable gathering of faith and unity as thousands of students congregated within the walls of Neville Arena on Tuesday night for an event aptly named "Unite." This occasion was a profound dedication to worship and the delivery of spiritual messages, aimed at guiding Auburn students on their journey to deepen their faith in God or to satiate their curiosity about Christianity. The overarching objective of this event was to bring together the diverse Christian community of Auburn under one roof, fostering a sense of unity in the worship of God.
The atmosphere within Neville Arena was electric as the night progressed. Towards the event's conclusion, Jennie Allen, a prominent speaker for the evening, rushed onto the stage with astonishing news – students had come forward, expressing their desire to be baptized.
Jeremy Napier, the chaplain for the Auburn men's basketball team, shared his insights on this transformative moment. "I've been part of planning this event, and man, the Lord just took it from there, and we ended up at the Red Barn," Napier recounted. "It was not planned at all. I think this was a spontaneous decision at the very end where we just said 'let's go for it.'"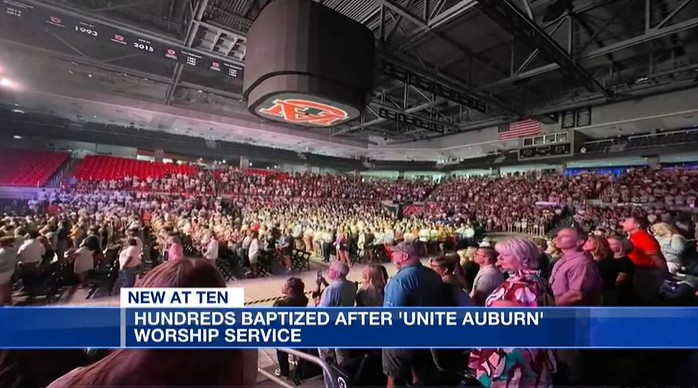 In this spontaneous act of faith, Napier personally baptized over 20 students, and it is believed that more than 100 individuals, in total, underwent this profound spiritual experience. Surrounding the serene lake at the Red Barn, hundreds of students joined in, cheering and singing as each person was baptized, one by one.
Napier's message extended beyond this remarkable moment of baptism. He encouraged those who took this pivotal step to find their place in a local church, where they could be nurtured, held accountable, and receive guidance from those around them.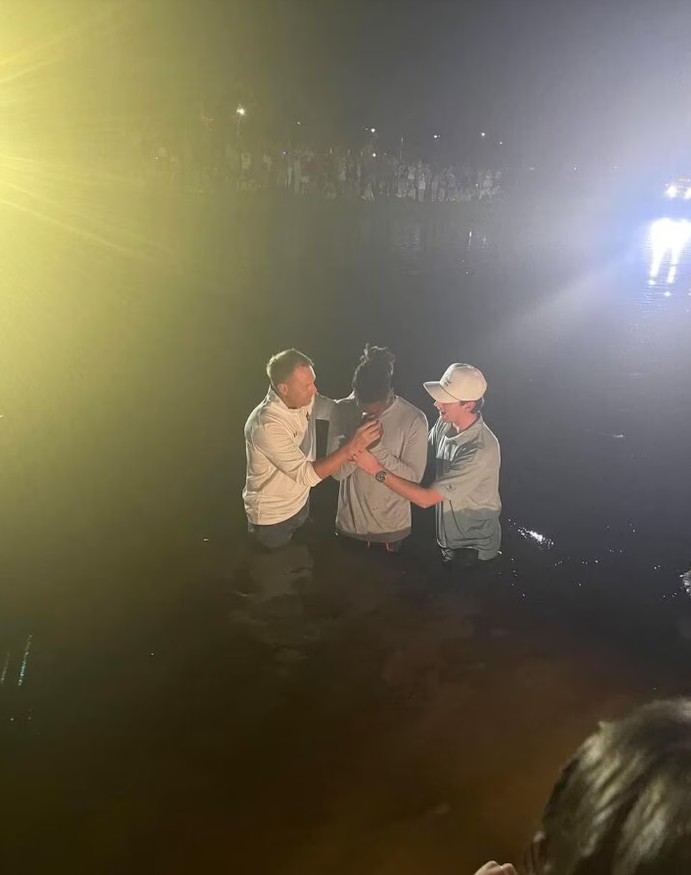 Auburn Tigers head football coach Hugh Freeze helps baptize one of the football players on his team at an event that saw hundreds of people give their lives to Christ on Tuesday, Sept. 12, 2023.(Source: Michael Floyd)
The driving force behind "Unite Auburn" is an organization committed to bringing college students together to celebrate the name of Jesus. Tonya Prewett, the wife of assistant basketball coach Chad Prewett, took the lead in orchestrating this event, miraculously putting it all together in just six weeks.
The event featured prominent speakers, including Jonathan Pokluda and Jennie Allen, with Passion Music leading the worship at both the beginning and end of the night. Pokluda delved into discussions surrounding sexual purity, while Allen spoke passionately about being an ambassador for Christ.
This gathering not only brought the spiritual experience of Passion Music back to Auburn but also echoed Allen's previous message, urging students to confess their sins to one another, fostering a sense of community and accountability.
For many students like Virginia Winsome and Peyton Sumrell, "Unite Auburn" was a celebration of faith and community on their college campus, fulfilling a deep desire to see Auburn embrace and support this ministry.
As the event came to a close, Pokluda challenged the audience to follow the will of God, emphasizing that if Jesus could die for the sins of all, then there was a greater plan and purpose for each person who embraced His will.
The night was further illuminated by the Auburn University Men's Basketball team, illustrating a powerful message about acknowledging one's sins and struggles. This striking demonstration resonated deeply with the audience, highlighting the power of recognizing one's weaknesses.
Throughout the evening, several notable players and coaches endorsed the event through social media, underlining the profound impact it had on the Auburn community. Coach Bruce Pearl tweeted his pride in Auburn's students, emphasizing the transformative power of faith.
Caroline Kambeitz, a junior in public relations, was deeply moved by the experience, describing the night as "full of energy" and "filled with God's presence."
In her closing message, Jennie Allen left Auburn students with a profound question: "Auburn, my question for you is, do you want God? God has made you ambassadors for Him." As the echoes of the event lingered in the hearts of those who attended, the answer to that question continued to unfold, uniting the Auburn community in faith and purpose.