Phobias are difficult things to understand. But they are very true to many people. Christians are not exempt from this phenomenon. Joy Stamey, an 86-year-old member of Liberty Live Church in Hampton, suffers from fear of water. But one day when invited to be baptized, she faced her fear as a show of dedication to her Savior.
Despite having been a believer since she was a child, Stamey said she had put off baptism for a long time due to a bad water experience. All of this changed in the last few months as Stamey began to consider the next step of baptism more and more.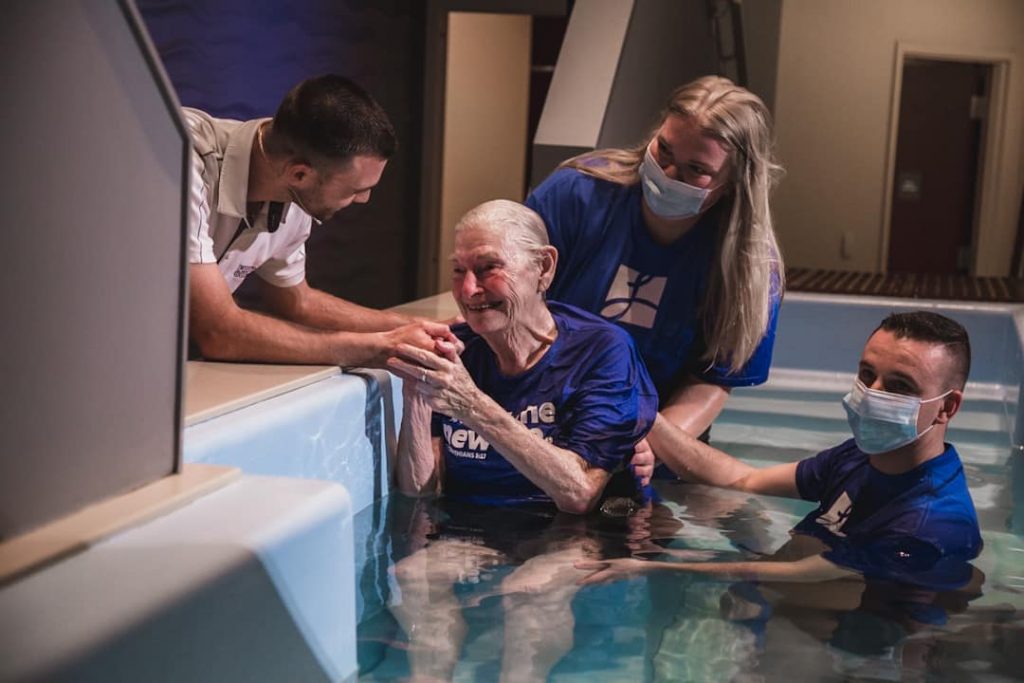 All my life I've been afraid to (get baptized), so I just put it off and said I'll do without it. But as I got older I got to thinking about it, and I just decided to do it," Stamey said. With her baptism, she said, "I thought my kids would be proud of me and I knew I had to be baptized eventually, and I'm very happy about it now. I felt really good afterwards."
Pastor Zac Ethridge of Liberty Live said her deed has inspired him and others in the church to do whatever it takes to obey Christ. He said he was ecstatic when the family returned to attending church in person after the COVID-19 lockdowns, but he was even more ecstatic when he learned Mrs. Joy wanted to be baptized.
Beginning in the summer of 2021, Ethridge spoke with Stamey and her family about the possibility of being baptized. Stamey is in a wheelchair, so the family was concerned about the physical challenges that could arise.
"If we have to cut a hole in the roof, we're going to help anybody who wants to take a step towards obeying Christ," Pastor Ethridge said. "We're going to do whatever it takes."
"It is awesome to have your church family support you like that," Stamey's daughter Julia Dancy said. "It felt like it was home, just the way it should be. I felt an overwhelming sense of gratitude and love."
Mrs. Joy also expressed a fear of water as a result of a bad experience in the past. Ethridge reassured her that the church would go to any length to ensure she was safe and comfortable during her baptism.
Volunteers from the church began by gently lifting Stamey, who was in a wheelchair, up the stairwell to the baptistry's location. Volunteers helped carry her into the water after she was wheeled to the edge of the baptistry and rested her on a stool she used while in the water.
The special ceremony, which Stamey's daughter Julia Dancy described as "incredible," was attended by family, friends, and church staff who offered support and love. The 86-year old is now encouraging everyone who hasn't been baptized to do so. Stamey said that she has felt a lot better since being baptized and "It was the best thing" she had ever done and she regretted not doing it a long time ago.
Pastor Ethridge said that Stamey has given those who are afraid to follow what God has called them to do. If she faced her fears and was baptized, then we do not have a valid excuse.