Vicki Anderson, 53, a McDonald's Drive-Thru employee, got the surprise of a lifetime when a man gave her a car during her regular workday in South Hutchinson in Kansas.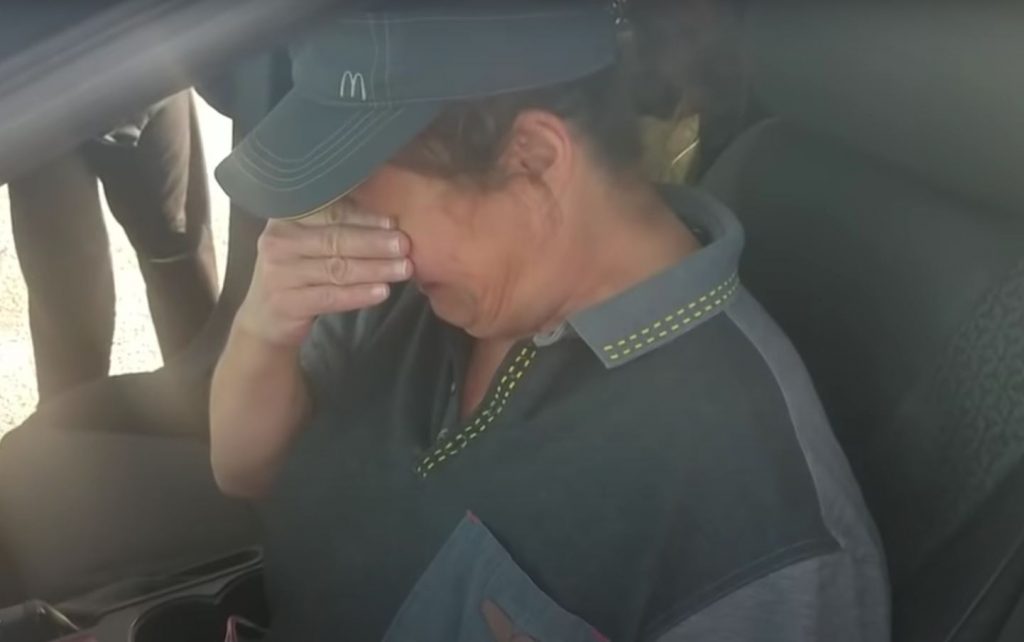 For three months before that Wednesday, Vicki depended on her co-workers for a ride to and from work. Her car, 1994 Oldsmobile Cutlass Sierra, was broken. She dismissed the plan of spending $500 to fix the car that is worth less than the repair cost.
Vicki shared her dilemma with Chris Ellis, a regular Saturday morning patron of the store that became her friend. She asked if Chris knew of a cheap car that she could buy. The guy said he would look and ask around.
From 1994 Oldsmobile Cutlass Sierra to 2009 Pontiac G6
True to his word, Chris found a car for Vicki –a 2009 Pontiac G6 he bought from his son, Josh.
Chris learned that Josh wanted to sell the car at a discounted price if it's for a good cause. He explained to Josh why he wanted it. Before bringing it to Vicki's workplace, Josh had it cleaned, changed the oil, and rotated tires.
Vicki had no idea that Chris is a Wichita businessman. He wanted to surprise her, so he arranged the presentation of his gift with the help of Vicki's manager. They went out of the store and together with Chris's wife and Josh, he handed Vicki the title and car key.

"Here's the title and here's the key. That black car is yours," Chris said.
"No way," she said, thinking Chris was kidding him, considering her first impression of him. (Chris always spoke to her like a trucker whenever he ordered his bacon, egg, and cheese biscuits. She was scared at first, but played along by being jolly and happy in serving the meal.)
Vicki was overwhelmed seeing the car especially when she went inside to check its features. The Pontiac G6 manufactured between 2003 and 2010 was in three variants – convertible, coupe, and four-door. Vicki's gift car was four-door.
"Oh my God!", she said, going through a mix of emotions. She was smiling, chuckling, and crying, and kept hugging and thanking Chris and Josh. All she could say was, "God bless you."
Finally, when the thought sank in, Vicki paused and just cried. Chris and the group respected that moment. Afterward, Vicki got out of the car and said she needed some air. She just couldn't believe it would happen to her.
"I just called my friends today from church and we prayed. And they said, God can create miracles," said Vicki to the group. To distract the developing drama, Vicki's co-worker said, "So I'm not taking you home at four." They laughed.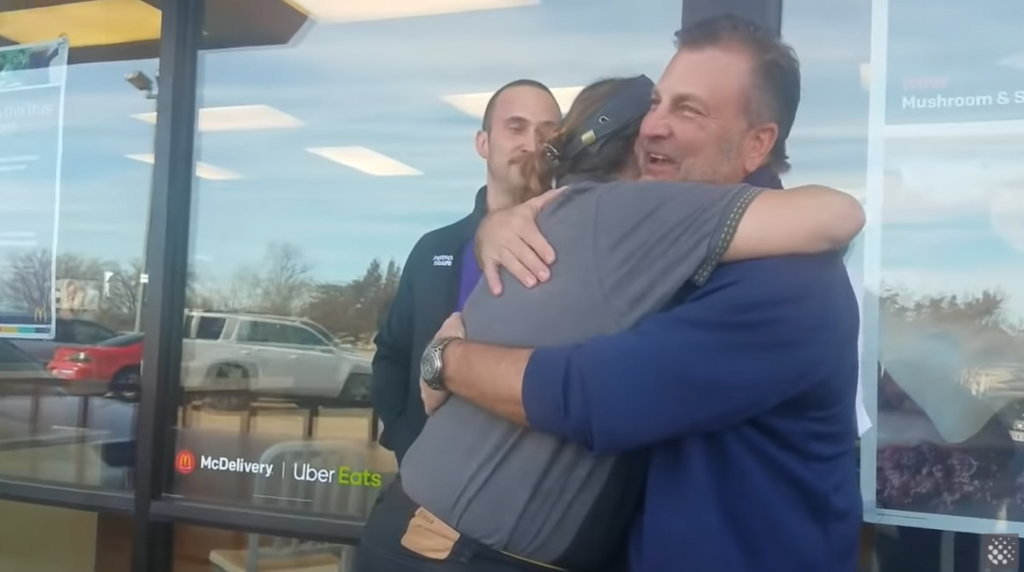 Chris responded to Vicki's persistent 'God bless you' with 'You're a blessing to me". For Chris, a person's smile like what Vicki does, spreads positivity. Hence, he admitted that Vicki "make me smile every time I come through here, and I don't forget stuff like that."
Chris told Vicki how she could repay the favor. "Now you do good with it, okay?', said Chris. "Pay it forward when you get the chance and do good with it."
This wasn't difficult for Vicki since she used to drive for others who didn't have a ride.
"I believe that's what God wants us to do — to help one another," she says.
In a way, Vicki and Chris have one thing similar – they both want to be a burst of sunshine to others. Vicki, for her good nature, and Chris, for being kind as he knows how to share his blessings in life with the right person.