It's never too late.
Royce and Frankie King finally got the wedding photos they had been dreaming of 77 years after they got married.
The St. Croix Hospice staff, who look after the elderly couple, helped set their 77th wedding anniversary and made it a very special event they would never forget.
The staffers turned the backyard of the Kings' home in Oelwein, Iowa, into a 1940s-styled venue. And this time, they had an official photographer, St. Croix staff Hilary Michelson.
Capturing the moment
"I had the honor of taking some photos for their 77th wedding anniversary," Michelson wrote on Facebook, adding she had a "hard time keeping it together behind the lens."
Frankie, 97, donned a vintage 1940s wedding gown while Royce, 98, wore his Air Force uniform. They used the flowers from the patio as the bride's bouquet, and a music therapist from St. Croix played tunes from bygone years on his saxophone as she walked down the aisle.
The couple's daughter, Sue Bilodeau, was there to witness this special moment in her parents' lives.
"They escorted my dad, sat him down and we placed a little handkerchief around his eyes," she said in quotes by USA Today.
"We walked mom down the back steps and across the yard, and then she stood in front of dad, and I was able to take off his handkerchief. I said, 'Are you ready to see your bride?'"
That beautiful smile
When Royce saw his wife, he had nothing but the "biggest smile in the world."
"And he didn't stop smiling," Bilodeau added.
Finally, Royce and Frankie had their dream wedding photos — documenting the sweetest kiss and hug they shared in front of an archway.
"How can you not have a sense of overwhelming emotion?" St. Croix Hospice Chief Executive Officer Heath Bartness told TODAY.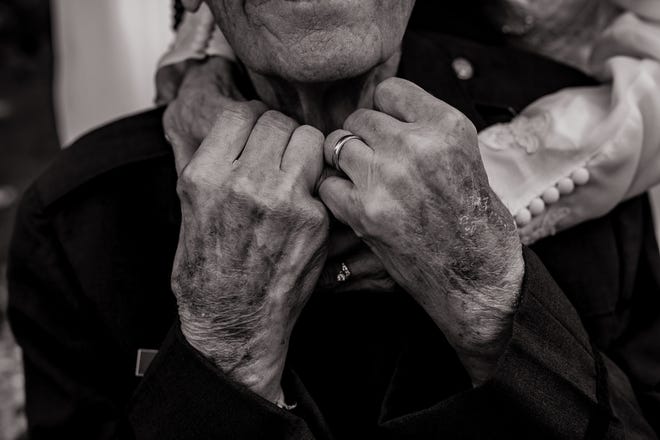 An act of humanity
According to Bartness, the hospice staff always talk about celebrating other people's journey.
"Sometimes you get to create new memories at this stage, and that is really cool and special… the occasion was simply an act of humanity," he said.
Royce and Frankie had no chance to have official wedding snaps or even a wedding gown when they tied the knot in 1944. The airman was only on a two-day leave and had to be deployed overseas to fight in the war.
Indeed, the couple's wedding photos encapsulate a special memory that proves their undying love for each other.