Anthony Muobike spends every spare minute outside his front door dribbling a basketball, to the point where the noise of the ball constantly bouncing off the pavement became a source of contention with his Edmonton, US neighbors. "I thought that whenever I dribbled it made a racket and people wanted to sleep or something like that", he said.
The 14-year-old loved to play basketball, but he didn't have a hoop to shoot in, so he dribbled the ball for hours on end in his driveway or on the street. LeBron James, the NBA legend, is Anthony's hero, and he aspires to play the sport professionally one day. It wasn't long before Anthony's neighbors realized how much time he spent on the sport, as they could always hear him practicing his favorite pastime.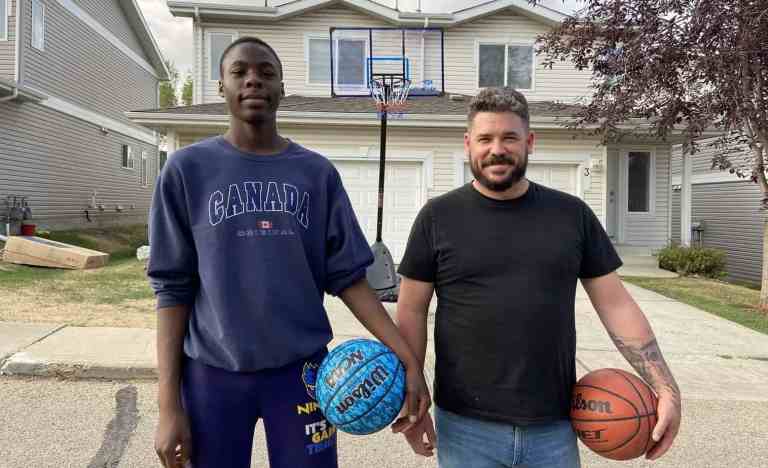 On the same road lived Ian Ray. He has been living in the area for 13 years. He couldn't help but notice that Anthony was a determined young lad. But he also saw that there was one crucial thing missing from his practices. "He was just a kid who dribbled a basketball — all day, all night," he said. "I kind of figured it would be cool if he had a net."
So what he did was to make the story of the dribbling kid famous on social media. And in a short matter of time, he was receiving offers from left and right. They all wanted to donate their used net. Then one offer made a big difference. The company Canadian Tire said they would like to send a brand new one.
There were also cash donations that amounted to $750 that was to be spent on basketball equipment and jerseys. Anthony had no idea that this was happening. All he knew was he wanted to play ball. This is why when someone knocked at their door, he never thought that there was something for him.
"I come outside and I see a man I barely ever see," Anthony said. "I just saw the net and it didn't even matter that it wasn't built yet, it was just in the box. I was like holy moly, that's crazy." The teenager said that he plans to repay those who helped him. "I will succeed. I will be in the NBA – 2026 I'll be there and then try to give back to those people and I will make them all proud. I will be up on your TV," he said.
The kind gesture of Anthony's neighbor will leave a lasting mark on his life. This may be a motivation to the teenager to reach for his dreams. Scripture says in Proverbs 16:9, "We make our own plans, but the Lord decides where we will go." So, in every plan, we must consult if it is the will of God because He will never put us in a bad position. Sometimes we think that we have it all figured out but God has a better plan and that is where we should submit ourselves to. Continue to pray for Anthony and his dreams!