Can I tell you about my experience at Asbury? In case you didn't hear, thousands of people from all over the world were/are flocking to Asbury University located in a small town in the center of Kentucky, to catch wind and see for their selves what was happening there. Many calling it a revival.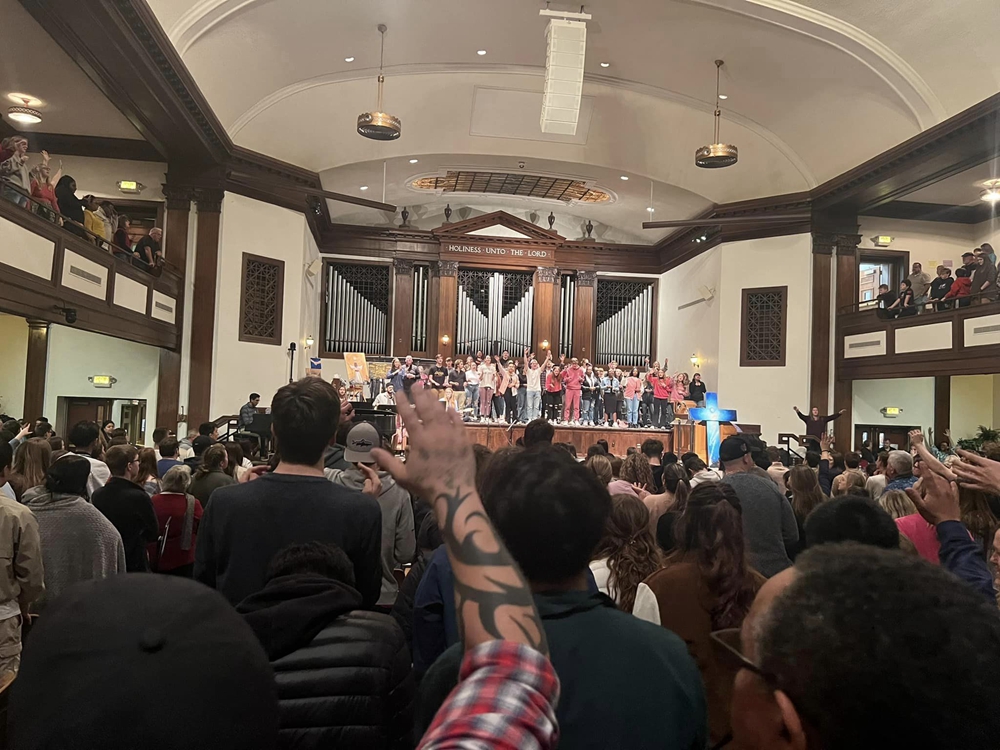 The word revival to me sounds like bringing to life something that was dead. So that isn't how I would describe my experience as my faith was not dead going in. I would describe my experience as an ENCOUNTER with Jesus.
I love how John Tyson says, "Jesus comes where He's wanted." He was definitely wanted on this campus. But I'll also point out – He isn't limited. So just because thousands and thousands had an encounter here- in this 100 year old chapel, that doesn't mean you can't have an encounter … by yourself… at home in your living room. Or, at your local church among 1, 2 or 100s of others. He comes where He's wanted. He's everywhere all the time (omnipresent) but we so often miss Him for various reasons. We aren't looking. We aren't aware. We second guess. We are cynical. We dismiss and call it coincidence. We are afraid to consider, was that God? "What if I say that out loud , people will think I'm crazy" many may think. We are BUSY.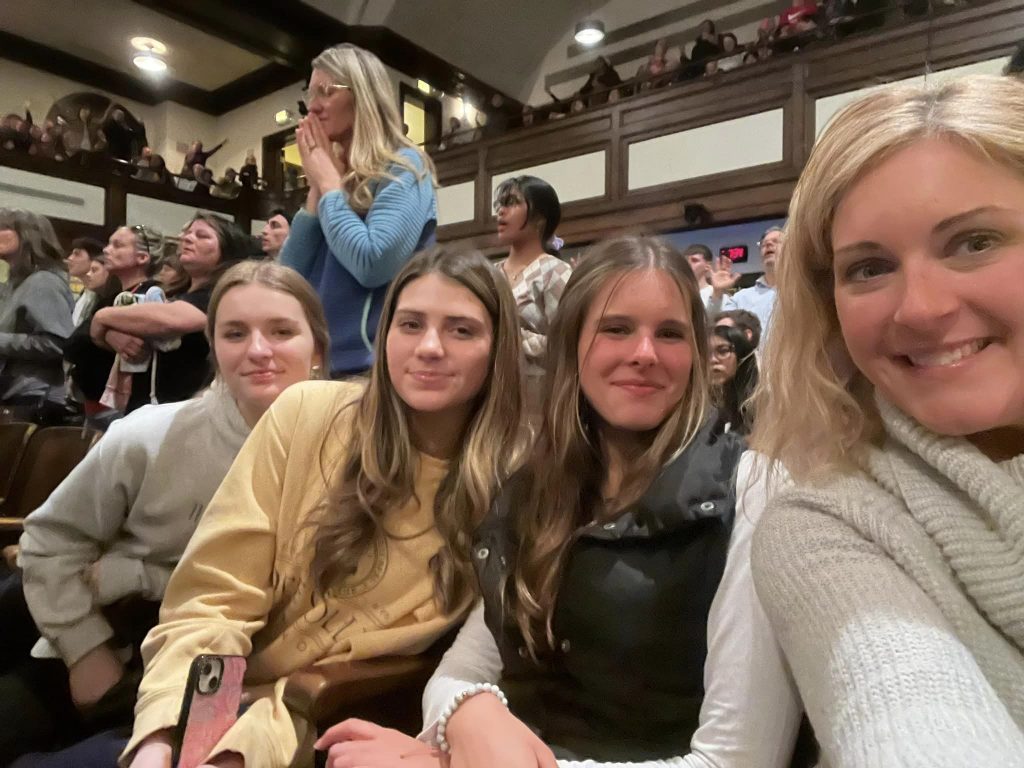 It's ok. He's patient and knows we are human. But He also made us with common sense and seeking hearts. Those questions you have are good. Keep seeking and asking.
I mostly don't care what others think bc I go off of my own genuine experiences. I've had wayyyyy too many encounters in my short 40 years of life to dismiss. I know what I know. I can never unknow what I know.
I can never unsee what I've seen.
What I saw at Asbury, was fire spreading! People's energy bouncing off the walls in a small space ignited by unexplainable reason. I can't even really try to describe it. But I'm trying. Because I want YOU to have hope.
After leaving Asbury, I can never not have hope for what's to come.
So let me tell you… Asbury gave me HOPE!
Hope in the next generations. More hope in the unseen works of God. More hope to keep being light in a dark world.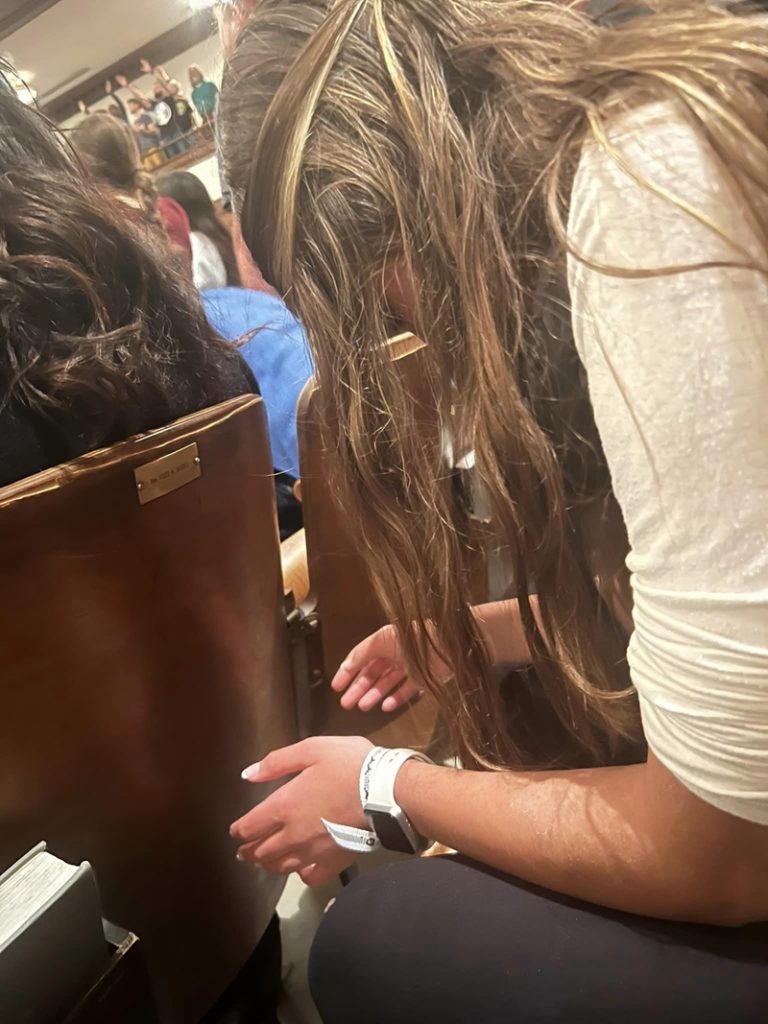 We couldn't get there until the last full day… and by this time, there was news coverage and social media sharing galore so the place was packed. The line of cars to get in was 1.7 miles long. State and local police directed traffic in the small Kentucky town.
People ditched their cars and started walking just trying to get close.
The Salvation Army showed up handing out waters to the thousands waiting in the public line.
I was with a group of teenagers (as the chaperone) so we advanced to the student line and were admitted in with only a 10 min wait. I mean, we will wait 2 hours to ride Steel Vengeance so 10 min was a breeze! (I legitimately felt bad for the folks waiting 5+ hours BUT they were simulcasting outside and in multiple other locations what was happening in Hughes hall… so I just kept reminding myself, "Jesus comes where he's wanted. Jesus meet with these folks on the lawn, in their cars, homes where ever they are seeking you.")
Being this is a college campus, and this encounter was prayed in and started by college students – Asbury felt led to really let them run the show and help spread fire amongst those 25 years and younger. So I would say, when we were there 85% of the crowds (inside) were 25 and younger.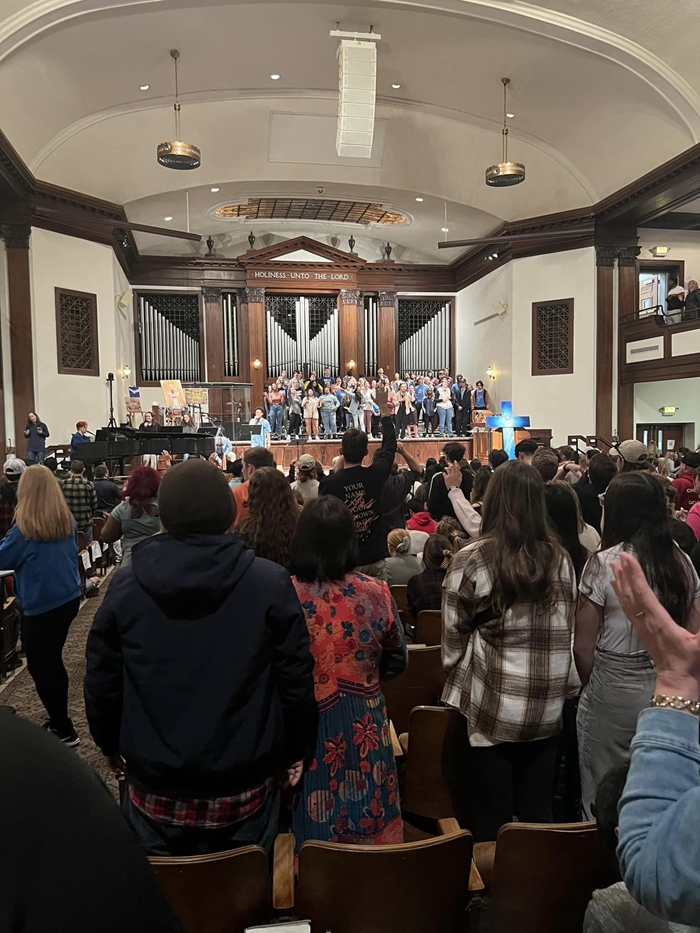 When we entered, I was a bit on sensory overload and allowed myself a few minutes to settle in. *we drove 5 hours to get there and got rear ended 30 minutes away so I was gonna need a minute to catch my breath. (Thankfully car still drivable… ain't no way we were making it. ✌️ James 4:7)
I have worked in full time ministry for 10 years this Fall. I'm an event planner and help produce programming designed for people to encounter the Lord. I've attended and helped build several retreats, conferences, events and programs.
This was different.
I saw pure hunger and passion like I've never seen. I saw humility and reverence. I saw purity on faces with no care what others were thinking about them. I took time scanning the room looking up, down, side to side reading body language and postures.
There were no lyrics on screens, no bells or whistles, no celebrities or known famous speakers. Just a whole bunch of people showing up to an unplanned gathering hoping they might catch the drift of the Holy Spirit.
We got there around 5p Sunday, right as some worship and prayer was beginning. I knew the first couple songs as we were settling in and I was mostly observing. And then something happened that I'll never forget. A new song started I've never heard. (And to paint a picture – I could probably be your phone a friend for most worship music LOL)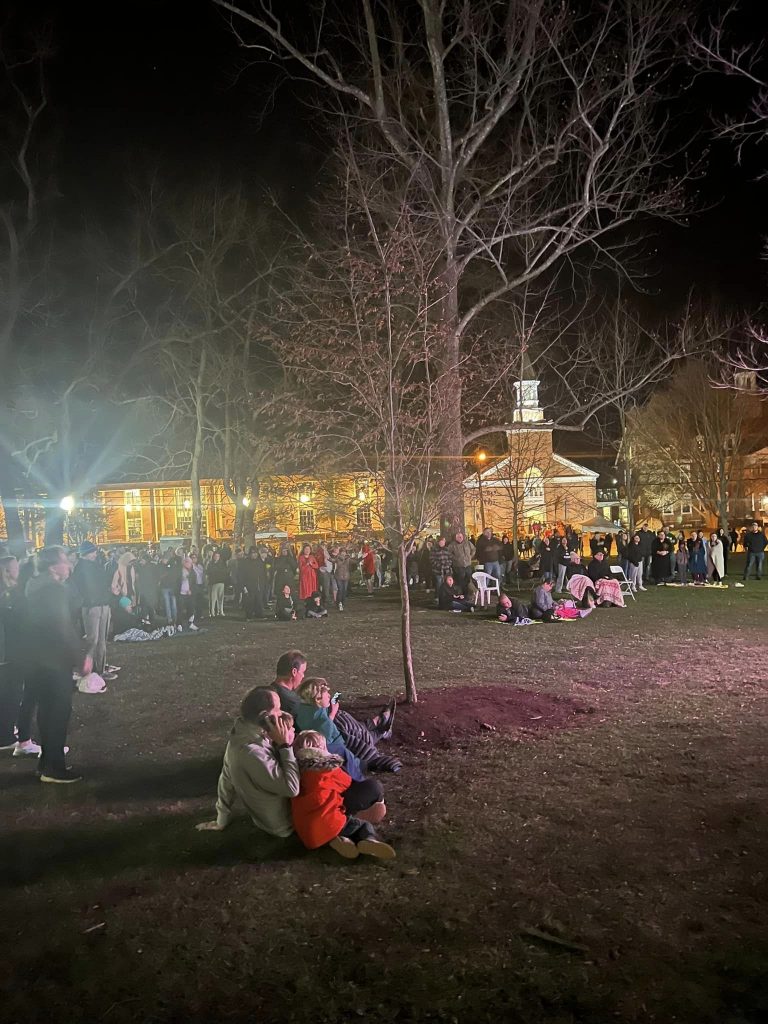 80% of this chapel is singing this song including my daughter and her friends. The sound was so beautiful and loud I started to understand the phrase "blow the roof off." You could feel it in your bones.
I'm thinking "what's happening? Where am I?!"
I lost my breath. It was so beautiful I can't show you a video, a picture or develop language to explain it. But in that moment I exhaled and sat down.
I was then led and ministered to by the next generation. The future leaders of this world. The ones who have been through so much. The ones who are unfortunately known for being the generation of anxiety and depression.
I was not Kristen the event planner, the program director, or the leader here. I was Kristen- daughter of the one true King. My daughter was leading me. This was the oddest but most beautiful feeling. I literally wondered if I was dreaming.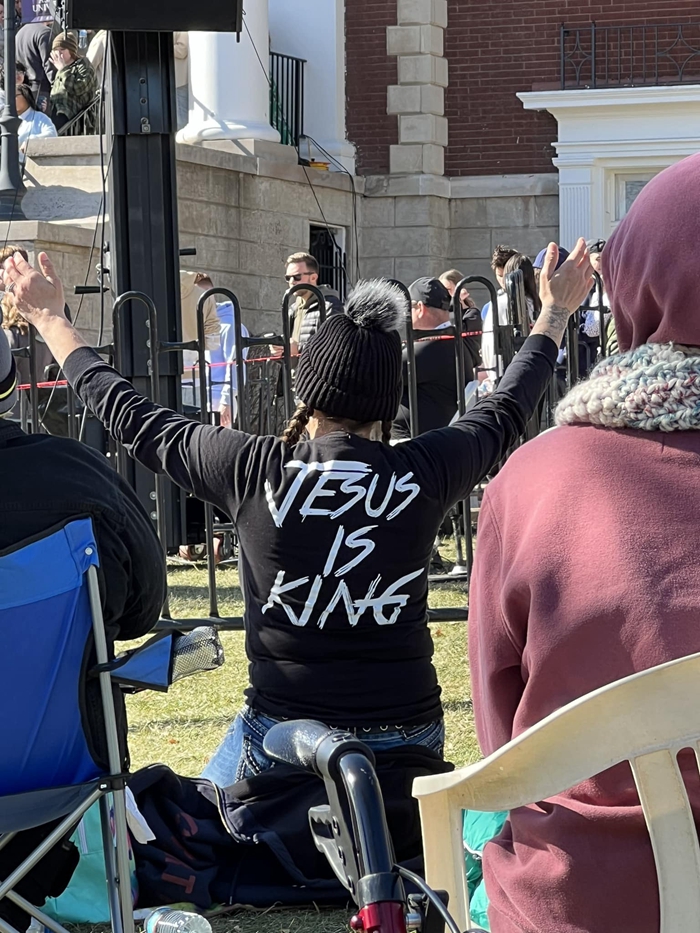 I sensed an overwhelming peace (again can't describe it) from the Spirit saying let me show you what I'm doing here. This is just a glimpse.
The heavens were literally ROARING in this chapel. In fact, an Asbury staff member had to get on the mic and remind everyone the chapel was sturdy but old – no jumping in the balcony. 🤪
Not every single moment I was there was filled like this though.
There were highs that I can't describe and there were normal minutes too where I got distracted, looked at the time, realized my hunger (we hadn't ate a proper meal all day) and felt the aches in my back from a long car ride, a car accident, followed by hours of standing in one place.
But the high moments were legit.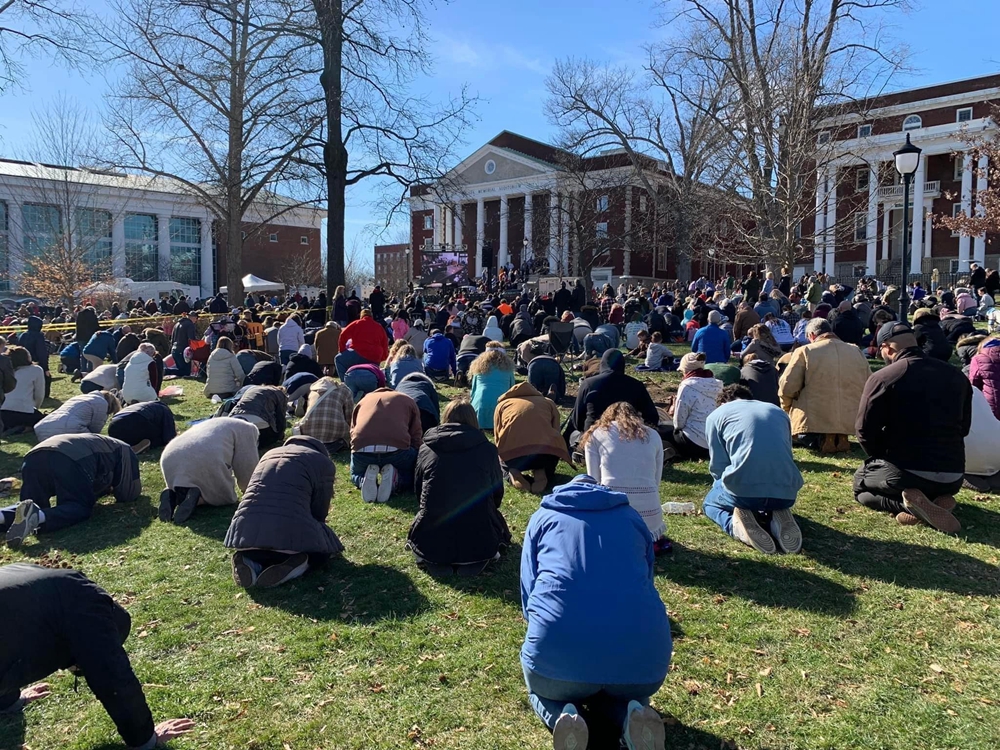 Was it life changing for ME? Or my daughter? No. Because we have experienced Him before. Was it something I'll remember forever? Absolutely. Was it different? Yes. Would I drive 10 hour round trip to do it again? Sure if I needed some water.
Guys, there is a lot of dark in the world indeed. I don't need to list all the things because you know. But I want to remind those of you still reading this (God bless me I know it's long 🙊) there is so much light. And, HELP IS ON THE WAY!!
People are hungry. Thirsty. Desperate for a God that is true and real. Desperate for a fire they can keep fanning.
And that's how I want to close this recap. Yesterday we drove home. I was sort of initially surprised I felt a little empty in the morning. So I processed that and prayed. At first I thought "gosh how am I empty after that?!" And then, in His genuine kindness I was reminded that Asbury was yesterday's bread 🥖. I hadn't ate any new bread that day yet. #GiveUsThisDayOurDailyBread See that's the thing. Many of us go to church for one hour a week and hope that's enough to get us through. We listen to one amazing podcast in the morning on the treadmill then by dinner the darkness is the focus.
Y'all – we need to KEEP EATING AND DRINKING the word of God! One meal satisfies for that time. It's not meant to "hold you over forever" .
If you are weary, thirsty, lacking hope etc – and don't know where to begin- please speak of. Tell your pastor, or seasoned friend. This is your invitation to tell me if you want. I'll be happy to share what I'm learning but I can't drink or eat for you.
You can lead the horse to water but…
So giddy up friends! Let's go. We got work to do and we gunna need to eat!
Oh and If you want to connect your 25 & under person to get them catching fire – PRAY for this! Look into ways for it to happen. The teens I traveled with aren't perfect by any means. They struggle just like the rest. But I'm surely going to keep cheering them on and encouraging them to keep drinking and eating! Thankfully we have a ton of ways for them to do so. And man, we gotta keep going bc adults from all over the world were lead by them on Sunday! 🙌 💫