Atheist organization Freedom From Religion Foundation (FFRF) previously tried to stop coaches at a Georgia high school from praying with their athletes ahead of every game.
The FFRF initially wrote a letter to the Coweta County School District saying that school representatives should be banned from participating in student-led prayer vigils and other similar gatherings.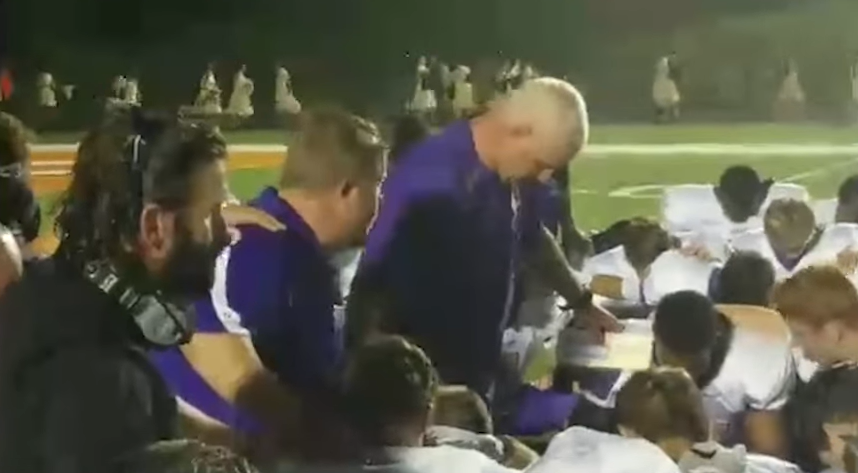 They said that any religious act like joining hands, bowing heads, and kneeling down may be perceived as an endorsement of a specific type of religion, according to Christian Headlines.
Georgia high school students fire back
The Coweta County School District approved the FFRF's request. However, the students enrolled at a Georgia high school felt that it wasn't right for anyone to prevent them from giving praise to God in public.
A group of over 400 students showed the school district what it means to follow God's lead when they gathered in prayer on the field ahead of another football game.
Football coach John Small shows students his support
Football coach John Small told the Christian Post that it is the student's right to express themselves through prayer. And as their teachers, all they must do is to support them.
"You tell teenagers they can't do something, surely they are going to do it. It has really turned into a positive because at the end of the day, we are trying to teach students about leadership, and they should be the ones taking the charge of it anyway," Small said.
In the end, the Georgia high school and the Coweta County School District were forced to accept the fact that they cannot prevent both students and teachers from engaging in prayer at any time of the day.
While speaking with Christian Post, Small said that he's not upset with the school and the school district.
After consulting with the freedom advocacy groups like First Liberty Institute, Small realized that the school did not violate his rights as an employee. The coach stressed that if he feels the school was wrong, he would be the first to stand up to them.
"I can assure you, if I felt like our rights were violated, I would be the first to stand up to them and say, 'That's wrong.' They have my full support and I know they have been through a tough time," he said.
Small also clarified that the school did not force him and his colleagues to disassociate themselves when their students huddle in prayer ahead of their games.
According to God Updates, Small is grateful to all the students that came forward to defend their beliefs, and he gave all the credit to God because it was his provision that changed the minds of those working in the school district.