The enchanting melody of "Unchained Melody" is enough to transport anyone to a moment of romance and nostalgia. This iconic tune, famously associated with Demi Moore and Patrick Swayze at a pottery wheel, was recently brought to life in a magical performance by several orchestras in Bremen, Germany.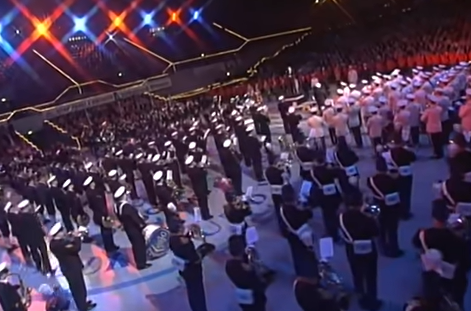 In this rendition, the journey begins with a solo trumpet setting the mood—soft, romantic, and sultry. The orchestra members, resplendent in their dapper military uniforms, each have their moment to shine.
As the performance unfolds, a symphony of brass instruments, including a sousaphone, fills the air, followed by the rhythmic heartbeat of drums. Then, the soothing tones of the clarinet gently envelop the audience, enhancing the tenderness of the tune. It's as if even the Righteous Brothers themselves would be humming along in approval.
What makes this performance even more remarkable is the sight of these military orchestras, all in their full regalia, filling an entire stadium. The visual spectacle is as impressive as the musical arrangement. This event served as a beautiful testament to the power of music in bringing diverse orchestras together to create something truly lovely. The coordination and effort that must have gone into this performance are a testament to the belief that, indeed, "time can do so much."