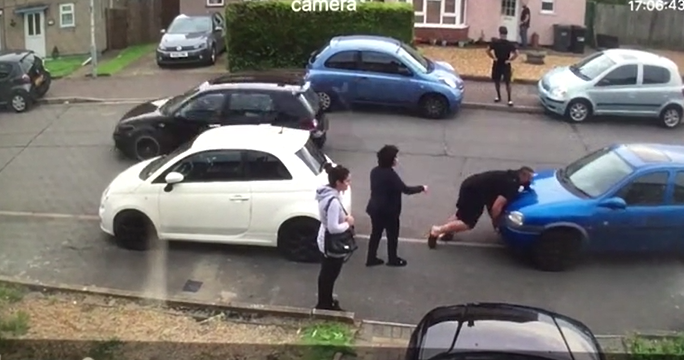 Hakan Acar, 27, from Luton, United Kingdom had to do the unthinkable to help his aunt. With his strength using his bare hands, he moved a neighbor's Vauxhall Corsa that was blocking his aunt Abi Mustafa's driveway. After that incident, he became known as the "The Tulk," short for The Turkish Hulk.
Hakan said the neighbor blocked his aunt's driveway as an act of revenge. But his aunt said she parked the car on the public road.
Describing the lifting/moving incident, Abi Mustafa said she had to call her nephew when she saw her neighbor's car parked across her driveway again. Obviously the neighbor refused to move it. The neighbors' habit of leaving their car in front of their house had been going on for a while. When her neighbors allegedly blocked her driveway as a form of retaliation, the parking war had gotten out of hand.
Although there are several open spots on the road, Abi Mustafa said her neighbor parked their car in front of the driveway on purpose.
"I'm quite a calm person – I'm not an angry person at all but hearing the way he spoke to my auntie just upset me a bit. To be honest I didn't go over with the intention of actually pushing the car in the first place. I just wanted to see how heavy it was but then I realized I could move it." The Tulk said.
Hakan raised the front bumper and accelerated backward. He gained momentum and eventually pushed the car back out of the way. As shown in the video, Hakan's sandals flew as he exerted pressure to perform the amazing feat. The strongman shook off the other sandal and pushed the car out of the driveway.
What Hakan did is a testament to what a human body is capable of doing when pressed. But in Hakan's case, it was evident that he was well-trained and disciplined to the ultimate level.
In Matthew 18:21-22, Jesus taught us to forgive our neighbors not seven times but seventy-seven times. If you had such a neighbor who continuously bothers you, what would you do as a Christian? Let us know in the comments below!