"He just wanted to sit there and, I think, feel that connection," Brooke Myrick, Walker's mom, said. "He told us that he just wanted to tell his brother about school."
A photo surfaced on social media showing a boy leaning on a gravestone. The young boy was Walker Myrick. He was telling his twin brother, who died at an early age, about his first day of school.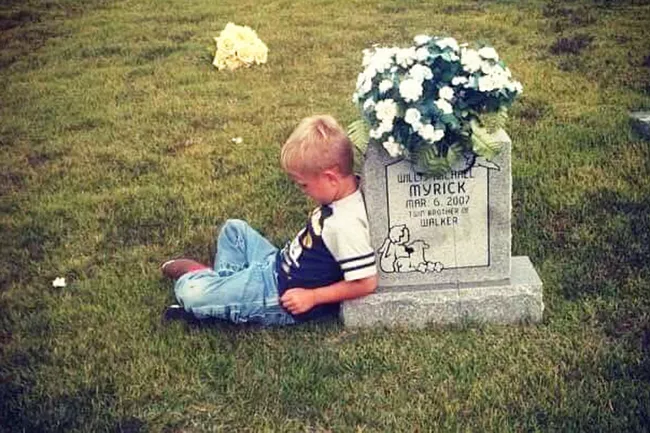 It is an expression of unadulterated, unplanned love that his mother, Brooke Myrick, recorded on her iPhone because she knew her now-9-year-old son would find it "really special."
Walker sat next to the grave so he could spend some alone time with his twin. He was only there for a short while, and when he left, "he was all smiles," according to mom.
Brooke was informed that she had Twin to Twin Transfusion Syndrome (TTTS) in the 24th week of her pregnancy. TTTS, a rare placental disease, only affects pregnancies with identical twins and essentially prevents the flow of nutrients equally to each fetus. As a result, one or both of the babies may frequently starve to death of the nutrients they require to grow.
It is not genetic or hereditary, nor is it a result of the parent's actions or inactions. Anyone can experience TTTS, and sadly for Brooke, it also struck her and her husband, Michael.
"I was 24 weeks [pregnant] when we found out, but they said that it had been at least a week, so we really don't know when Willis passed away," Brooke said. "That was the thing with being pregnant with twins — I was still feeling movement, so I didn't know that I had lost a baby.
Brooke was exhausted immediately after giving birth from having to support Walker for the rest of her pregnancy despite being physically exhausted. At 32 weeks, Walker was born. That evening, Walker was wheeled to Brooke's bedside, but she didn't muster the strength to go see Willis' body at the Huntsville Hospital for Women and Children until two days later. However, she experienced what she refers to as "a breakdown" at this point because of the gravity of the situation.
Brooke freely acknowledges that it took her "really several years" to come to terms with Willis's passing. Thankfully, better days were ahead, thanks to a lot of prayers and optimistic thinking.
Following a counselor's advice, Brooke made the decision to be upfront with Walker about what had become of his twin from the beginning and frequently accompanied him to the cemetery so he could place a Hot Wheels car or other mementos next to Willis' grave. In order for Walker to bring the items back and always see his brother's toys around the house, the parents also designated a shelf in their house as a special place for Willis.
"Usually it is when something good happens. He likes to feel like he can share it with his brother, just like if his brother were here," Brooke said.
Tragic things may happen in our lives, but those who trust in the Lord will renew their strength. If you know anyone who is suffering from depression or going through a difficult phase, encourage them with a prayer and tell them about the love of God.