Helene Fischer, a renowned German singer, dancer, entertainer, and TV presenter, has achieved global fame for her multifaceted talents. In 2018, she ranked seventh among the world's top touring musicians and has successfully sold over 15 million records.
Having taken her first steps onto the stage in 2005, Helene Fischer has collaborated with an array of famous artists, including Robbie Williams in "Santa Baby" from "The Christmas Present," Michael Bolton on several duets such as "Make You Feel My Love," and the young sensation from Germany's "The Voice Kids," Philias Martinek. Philias, who faced adversity due to a growth disorder that made him smaller for his age, used his appearance on Helene's self-titled TV series, "The Helene Fischer Show" in 2018, to showcase his incredible talent to the world.
At the age of 13, Philias delivered a stunning rendition of John Legend's "All of Me" alongside the host, Helene Fischer. Accompanied only by an onstage pianist, their emotional performance left the audience spellbound. Philias' father shed tears of joy, and as the song concluded, a well-deserved standing ovation echoed through the venue.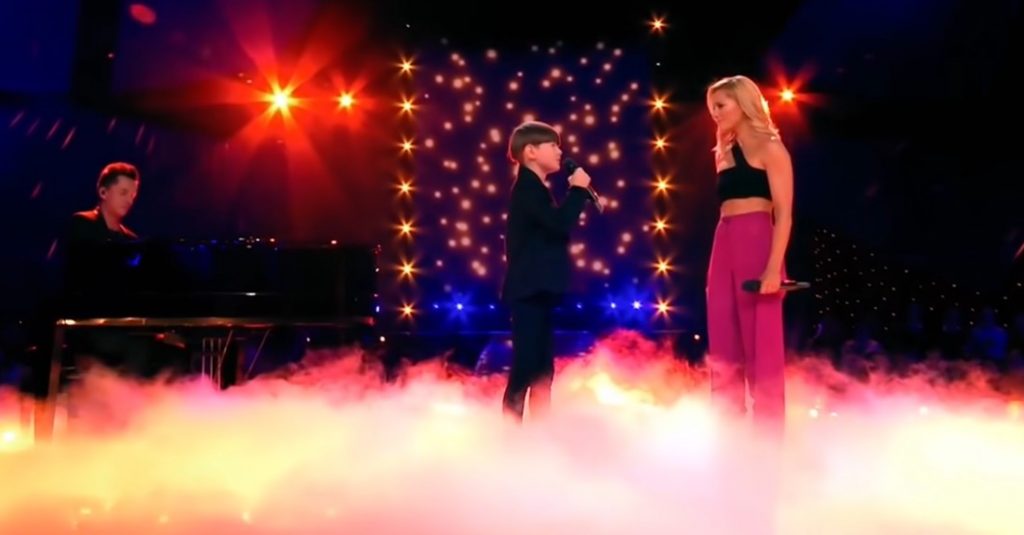 Before departing the stage, Helene Fischer told Philias, "ihr könnt stolz auf euch schon sein," which translates to "you can be proud of yourself." This sentiment resonated with YouTube viewers, who flooded the comments section with praise. One admirer wrote, "Amazing! That kid has a gift very few are blessed with…," while another stated, "What great talent the both of them are. This was just perfection. Truly beautiful."
Helene Fischer had praised Philias even before their on-stage collaboration, describing him as a "real all-rounder" who excels in various creative pursuits. She expressed her belief that he would achieve great success in life. Philias himself shared his feelings about the performance, saying, "I felt quite honored to be able to sing with Helene Fischer. I thought it was so beautiful how many people I seemed to have touched with my singing. Some even had tears in their eyes. I could see that from the stage."
Philias, who sometimes goes by the name "Phili," has amassed over 390K subscribers on his YouTube channel, a remarkable achievement for the nearly 17-year-old artist. His rise to fame was greatly aided by Mark Foster, a singer-songwriter and mentor on "The Voice Kids." Phili's channel features a blend of DIY content and cover songs, each receiving thousands, and in some cases, millions of views.